As part of the Unified Community Platform project, your wiki will be migrated to the new platform in the next few weeks. Read more here.
Raiding and Destroying
Only Builder's Desk and Bed and doors can be destroyed by melee weapons
Chest can be destroyed by siege weapons only. A lootbag will appear when you will destroy it.
All building structures (except foundations) can be destroyed by siege weapons
After having founnd and destroyed the Builder's Desk wait for the time protection to burn Pile or to use the destruction panel (F7) on raided base.
Before the end of the time protection, you can use siege weapons to destroy structures.
If you are raided, don't Repair (G) your Builder's Desk. Build it in other location in your base. (some raiders disconnect just around them to reappear after you have reconstruct everything)
Number of projectiles required/structures : Update on the way for missing elements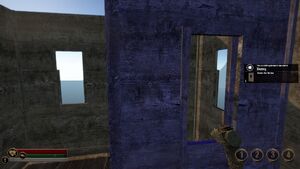 List of materials giving back after destruction / structure :
If you have built an element that you want to cance (or if you see a base free from Builder's Desk, press F7 after targetting a structure to destroy it.. press E to validate.
The cost of that structure would be give you back partly.